How to Install cPanel-WHM on CentOS 8
You know what CentOS Linux is, don`t you? It provides an open-course platform for Linux. CentOS 8 is the most recent version. It is provided with some upgrades and new features.
Now, we can check how to install cPanel-WHM on CentOS 8.
cPanel - Definition
A cPanel is one of the most popular control panels for web hosting services. It has a powerful user interface to provide easy management options. It comes with a huge set of features and options. You can also manage shared, business, and reseller hosting services.
WHM - Definition
A Web Host Manager, or WHM, comes with a cPanel. It makes the management of web hosting easier for web administrators.
cPanel and WHM Functionality
Here, you can check the list of functions that come with cPanel/WHM:
Graphic user interface for efficient WHM control;
EV certificates support;
API Authentication Tokens support;
AutoSSL support for proxy subdomains;
SSL status view;
Support of a number of operations, such as backup, mitigation, etc.;
DNS and mail server management options;
SSL/TLs configuration support;
Allows for easy integration options with Phpmyadmin and management of MySQL databases;
Rebranding support.
It looks impressive, doesn`t it?
Now, you see why it is worth installing cPanel/WHM.
Note please that once installed, cPanel/WHM cannot be removed. If you ever want to remove it, you will need to reinstall the entire OS. cPanel offers 15 free days of use, but this is a commercial product, thus, later, you will need to get a license.
Before you start with the cPanel/WHM, check whether your system complies with the following requirements:
A valid license for using cPanel;
A standard hostname;
1 GB RAM min, 2 GB preferred;
20 GB min (40 GB recommended) of free space on the hard disk;
Perl.
Step 1
Check whether your server has a fully qualified domain name. If not, set it up. In the example, cpanel is the hostname. Bluevps.lan is the domain name.
# hostnamectl set-hostname cpanel.bluevps.lan
Step 2
Check whether Perl is installed on the server you are going to install cPanel. If not, install Perl by running the following command:
# yum install perl
The autoinstaller will do all for you. But you have to download it first. You do it with the cURL command. If you don`t have it yet, install it by executing the command:
# yum install curl
Now, download the autoinstaller:
# curl -o latest -L https://securedownloads.cpanel.net/latest
The download will start. It might take 40 to 60 minutes to complete it, depending on the internet connection.
# sh latest
And then, the installation is complete, and you can start using your cPanel. You might need to reboot the system. After that, you can access your WHM with the URL:
http://SERVER_IP:2087
cPanel Will Change the Way You Work Greatly
With cPanel, the way you work will change completely. It will help you to:
Examine packages to avoid conflicts between them;
Update and install packages from previous yum cPanel to the new OS;
Download the base files and language files;
Install Perl modules and other packages;
Downloads PHP and Apache and compiles them with different modules associated with them.
Some clicks are still left to complete the task with your cPanel.
Step 1
Login to your user Root. You will be asked to read and accept the End User License Agreement. Do so:
Step 2
Now, you will be moved to the section Setup Networking. In the field Server Contact Email Address, provide your email address and SMS address in the column Server Contact SMS Address.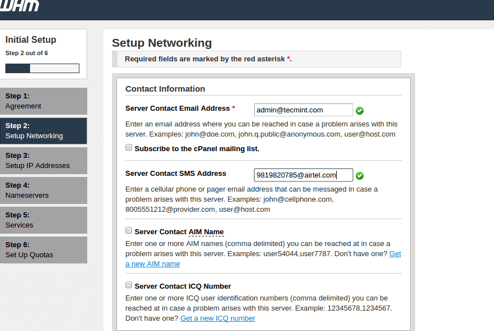 Step 3
Now, move to the Section Hostname. There, you need to enter a valid name and resolver entries for your specific server. You can use either Google or ISP`s resolvers.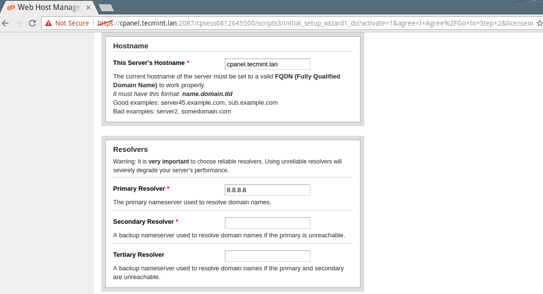 Step 4
Now, choose the Main Network/Ethernet Device.

The device IP is the main IP address of your specified server.
After that, set up the static IP address for your server. You can also choose one from your NIC card, if you have several of them.
Now, proceed with the adding of A Entries for Nameservers&Hostname for your server. You can either add them in the empty fields or by selecting a checkbox.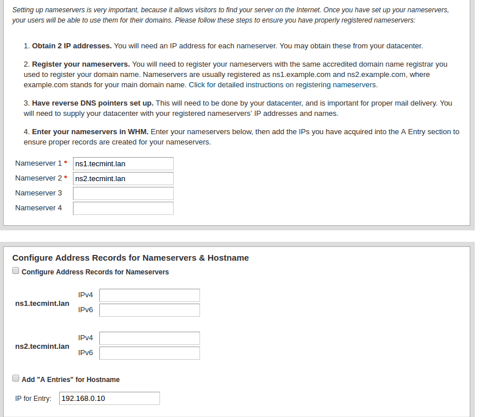 After done, click on the option Save & Go to Step 5.

Step 5
In Step 5, you can perform the configurations of FTP, Cphulk, FTP, and similar. In FTP, you can choose any of the options, however, we recommend Pure-FTPD. If you want to disable FTP, choose the option Disabled.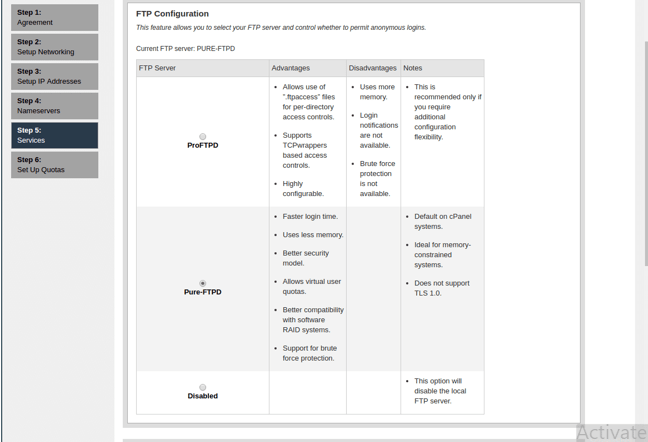 The same Wizard allows you to configure a mail server, add MTAs, and so on.
Step 6
After that, install Cphulk brute force protection. It detects brute force attacks and blocks the IPs from which they are sent. You can activate or deactivate it or set it up.
Finally, enable the quotas. They will track the available disc space and send you notifications.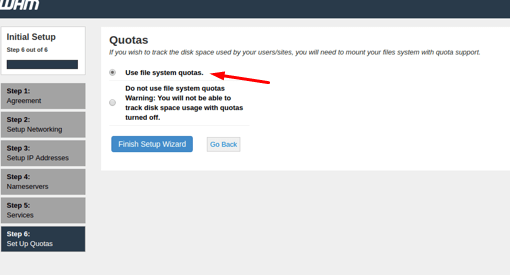 With it, you complete the setup wizard.
Now, you will see the WHM screen with all the options available.
Blog