How to Install VestaCP on Ubuntu 22.04
Vesta CP is good because it makes it easy to interact with the webserver and saves time for the technician.
So what makes Vesta Control Panel different from other control panels like cPanel? Its broad functionality is the first and foremost advantage. You can easily add sites, configure databases and mail, edit DNS zones, cron, add SSL (a free Let's Encrypt certificate can be quickly installed with a special button).
Vesta can be installed and run normally even on the most budget server - the minimum requirements are 512 MB RAM, 20 Gb HDD, and 1 GHz CPU. Depending on the amount of RAM, it may disable non-critical modules during installation. For example, the most demanding module is considered to be the antivirus suite, it is installed if the server has at least 3 Gb RAM. Of course, if this compromise does not suit you, you can customize the installation by selecting options manually or on the site.
Let's start then!
VestaCP step-by-step installation guide
Connect to your server via SSH and switch to the user with root rights. We have shown to do it in the previous article.
Enter these commands:
$ sudo apt update && sudo apt upgrade
It will make sure that everything is up to date.
Use curl command to download the installation script
$ curl -O http://vestacp.com/pub/vst-install.sh

When the download is complete change the permission with the chmod command
$ sudo chmod +x vst-install.sh
Let's begin the installation:
$ sudo ./vst-install.sh --force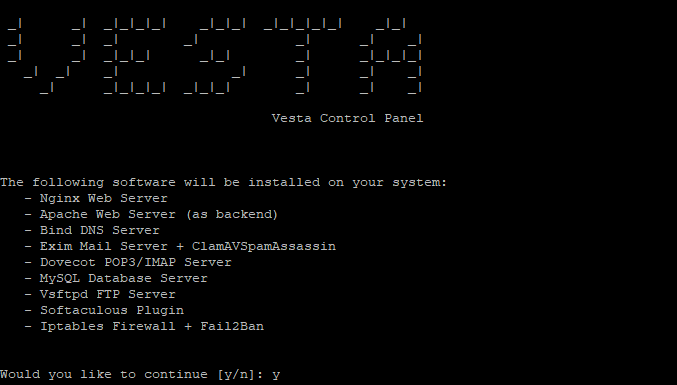 Access VestaCP Web Interface
Open web browser and type the URL https://vestacpanel.example.com:8083 and you will be redirected to the VestaCP login page. If you cannot open it then most certainly you haven't installed any GUI on your Ubuntu Server. Please contact our technical team so we can assist you.
Conclusion
You are free to add any specific website you need by using VestaCP. Should you need any additional help feel free to reach out to BlueVPS technical team via LiveChat or ticketing system. We offer installation of such control panels free of charge when you buy a server from us. Take care!
Blog